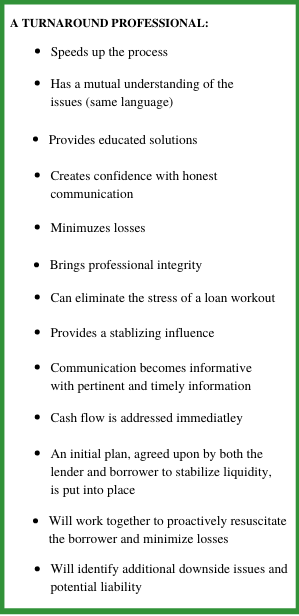 Bringing a Turnaround Management Association Certified Turnaround Professional ("CTP") to the table can significantly smooth out the process and eliminate much of the stress of a loan workout with a lender. We can add value to any aspect of corporate renewal for companies in crisis, especially during these trying times. This can be especially true for lenders trying to work with over-stressed business owners with little experience in workouts and restructuring.
Initially, a CTP provides a stabilizing influence. Communication becomes informative, clear, and transparent with pertinent and timely information. Cash flow is addressed immediately and an initial plan, agreed upon by both the lender and borrower to increase liquidity, is put into place. Managing possible additional downside issues and liability becomes a priority. We work together to proactively resuscitate the borrower and minimize losses.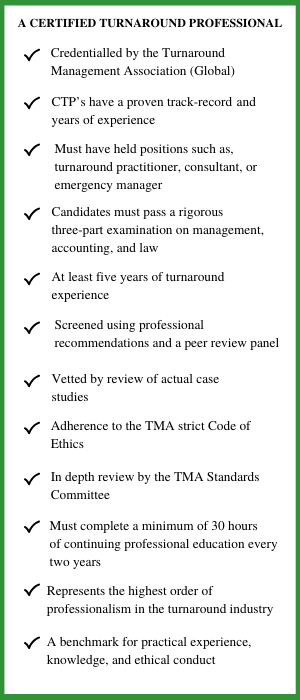 The globally recognized Turnaround Management Association has said "The designation of Certified Turnaround Professional (CTP) represents the highest order of professionalism in the turnaround industry. Administered by the Turnaround Management Association (TMA), it provides a benchmark for practical experience, knowledge, and ethical conduct. CTPs have a proven track record and years of experience in working with companies or large business units that are in financial crisis. CTPs must be or must have held positions such as, but not limited to, turnaround practitioners, consultants, or emergency managers and must demonstrate knowledge in the legal, financial and management aspects of a turnaround. The designation also provides an objective measure of expertise related to workouts, restructurings, and corporate renewal.
Company managers, executives at troubled businesses, lenders, bankruptcy courts and other professionals rightly demand that turnaround professionals meet an objective standard. Because of this, the CTP designation is increasingly important as a credential for engagement. The CTP designation requires the candidate to pass a rigorous three-part examination on management, accounting, and law. Additional requirements include a minimum of five years of applicable experience plus a bachelor's degree, or ten years of consulting or senior management experience. Also required are professional recommendations, client engagement write-ups, adherence to the TMA Code of Ethics, and review by the TMA Standards Committee.
CTP credentials are maintained by completing a minimum of 30 hours of continuing professional education every two years. The TMA is the premier organization of professionals dedicated to corporate renewal and turnaround management. This independent, nonprofit corporation preserves the integrity and confidentiality of the CTP application, examination and approval process."
The value of a Certified Turnaround Professional can be significant. Whether it is as a professional receiver, chief restructuring officer, trustee or advisor to management, a CTP can materially improve the outcome and shorten the duration of corporate crises.
---
Burke Advisory
June 15, 2020
---
Kevin Burke is a member of the Turnaround Management Association and a Certified Turnaround Professional. A graduate of the Villanova School of Business, he has over 35 years of experience in banking and executive management. His management consulting practice is located in Troy, Michigan.